HONORING A LEGEND'S LEGACY
On and off the track, IndyCar driver Justin Wilson (No. 25) was a hero. He was a hero to his loyal fans, his fellow drivers, his dear friends and family, and eventually, a hero to five individuals who received his gift of life. Justin died in August 2015 from injuries he sustained in a crash at Pocono Raceway in Pennsylvania. Justin had previously registered his decision to become an organ donor and had discussed this with his wife. On the worst day of his family's life, Justin gave them a beacon of hope through his final lifesaving act of donation. 


#Driven2SaveLives Recap
Watch as we take a look back at Stefan's journey of saving lives through the Driven2SaveLives campaign while competing in the 100th Running of the Indianapolis 500.
Connect with Stefan
HOW DONATION REALLY WORKS

FAST DONATION FACTS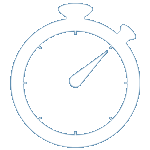 Seconds
It takes less time to register one's decision to donate than it does for an IndyCar driver to complete one lap around the Indianapolis Motor Speedway. Minutes
In the time it takes four cars to compete a four-lap qualifying attempt at the Indianapolis Motor Speedway, another person is added to the national transplant waiting list. Thousand
More than 120,000 people nationwide are waiting for lifesaving organ transplants. That's enough people, if standing side by side, to circle the track at the Indianapolis Motor Speedway almost 14 times. 

Story of Hope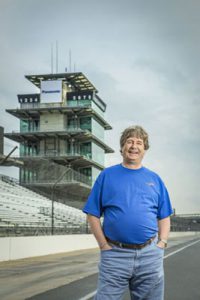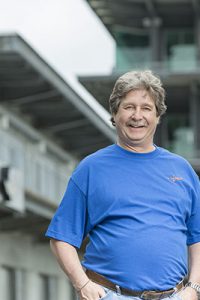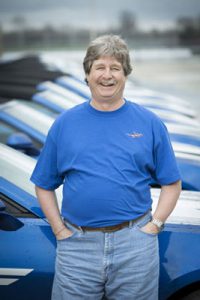 Meet Eric Passmore:
"If I can convince one person to become an organ donor…"
Eric Passmore knows what it means to be Driven2SaveLives. Like Stefan Wilson, he has seen the firsthand benefit of organ donation. The difference for Eric is that it was his own life that was saved.
As a young boy, Eric was diagnosed with what was known at the time as non-A, non-B hepatitis. Despite having been very sick, Eric got better and went on with his life. But as he approached age 40, Eric grew abnormally tired. After countless doctors and "thousands of tests," he got a new diagnosis of hepatitis C.
"I was told my liver was shot," Eric said. "I was told there was no cure and I should start planning my funeral."
Eric recalls feeling sorry for himself and he did plan his funeral. There were more doctors. There was talk of clinical tests. And then one of Eric's doctors uttered the words of hope that would forever change his life: Liver transplant.
He waited 15 months for a liver, with his quality of life rapidly deteriorating each passing day. Eric got a much needed liver transplant on June 8, 2000.
"I was told my liver was no longer working, that's how sick I was," Eric said. "My transplant took place on a Thursday and I was told I wouldn't have lived until the weekend."
Just as Stefan wants to honor his brother Justin Wilson and his selfless gift of life with Driven2SaveLives, Eric continues to honor his donor.
"My hero is a 14-year-old girl named Beth," Eric said. "Without her saying 'yes' to organ donation and telling her parents about her decision, I wouldn't be here today. Everything I do now is because of Beth."
Today, Eric is healthy and an active volunteer with Indiana Donor Network. A lifelong racing fan, Eric is gearing up for the 100th running of the Indianapolis 500 and plans to cheer for Stefan and the No. 25 Driven2SaveLives KVRT Chevrolet.
"I'm just incredibly grateful," Eric said. "I don't take anything for granted – not a single day."

#Driven2SaveLives
Together, Stefan and Indiana Donor Network hope to inspire 2,500 people across the country to register their decision to donate through Driven2SaveLives.
2500 Registrations


How Donation Works
Click on the chart below to learn more about each step of the process.
Becoming a donor
A person arrives at a hospital with a life-threatening brain injury and is immediately placed on a ventilator. 
Medical teams work hard and do everything possible to save their patient's life. Once loss of brain function is determined, doctors declare the patient clinically and legally dead and begin the donation process by contacting Indiana Donor Network.
Indiana Donor Network begins by checking the national donor registry and makes contact with the patient's family. During a time of tragedy, donation can turn loss into a time of hope.
Indiana Donor Network assumes clinical care of the patient in preparation of organ and tissue recovery. Meanwhile, an Aftercare Coordinator offers support throughout the family's grief journey. 
Finding a match
A national system matches available organs from the donor with patients on the national wait list. Many factors are taken into consideration.
Blood Type

Body Height & Weight

Severity of Illness

Donor Distance

Tissue Typing
Some things are NEVER considered. Organs are never matched based on someone's race, gender, income or social status.
Saving lives
Once matches are found, the wait-listed patients are contacted by their transplant teams.
Organs are recovered from the donor by highly-skilled surgeons with care and respect then transported to hospitals for transplantation.
Transplants restore life for patients and provide second chances to create new lifelong memories. 

Become A Hero

Behind The Scenes
Tune in throughout the month of May to follow Stefan's journey of saving lives while racing to win the 100th running of the Indy 500.
A Unique Fit: The No. 25 Driven2SaveLives–KVRT Chevrolet

anemptytextlline

A Splash of Color: Painting the No. 25

anemptytextlline

Honoring Justin: Creating Stefan's Tribute Helmet

anemptytextlline

Reflecting On My Time With Healthcare Heroes

anemptytextlline

Driven2SaveLives at Top Speed

anemptytextlline

Celebrating the Driven2SaveLives Campaign!

anemptytextlline

#Driven2SaveLives T-shirt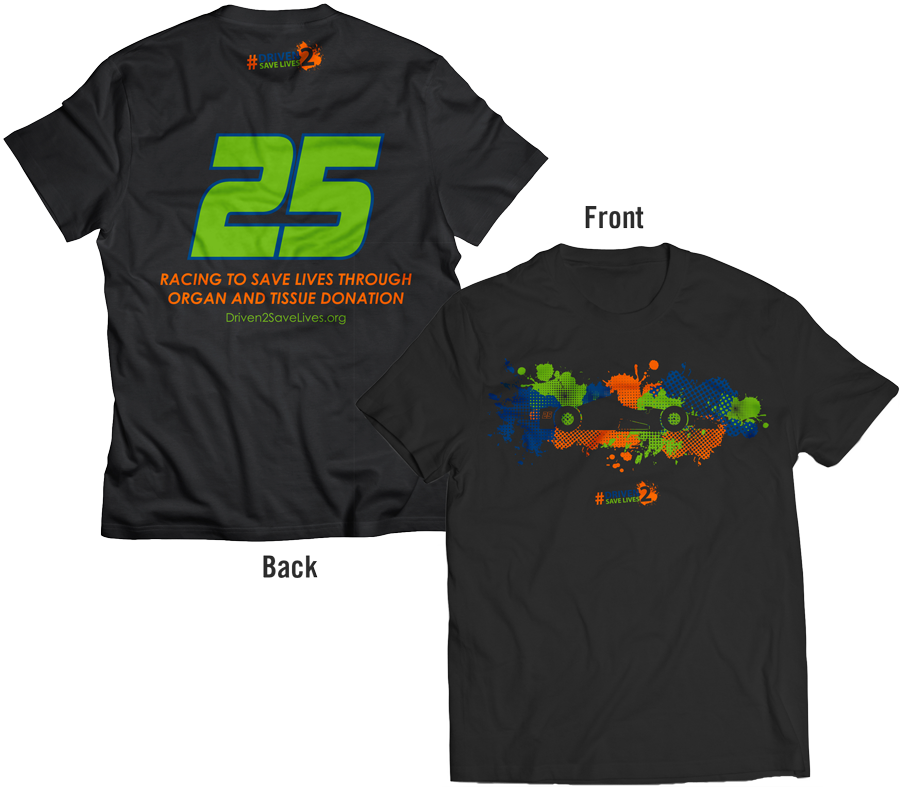 One racing shirt – one powerful message. Show your pride for Stefan in his tribute to Justin by purchasing a #Driven2SaveLives t-shirt. Connect with others, share your story and help spread the impact of organ and tissue donation and transplantation.
Proceeds will be donated to the Indiana Donor Network Foundation. These funds help support donor families throughout their grieving process and contribute to Indiana Donor Network's efforts of saving and enhancing lives through organ and tissue donation.